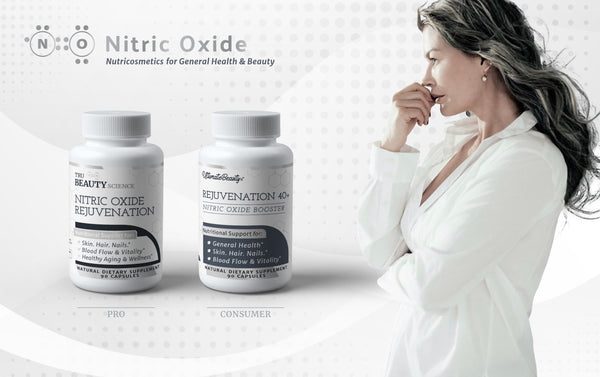 Live From the inside-out! healthy aging & beauty
Live a Healthier, Longer Life with Nitric Oxide Supplements for Your Body's Healthy Blood Flow Support: We have solutions for an integrated health and beauty approach.
BUY NOW
recovery for men + women
Boost Your Collagen Activation Naturally. Our RECOVERY Supplement Supports Healthy Skin, Connective Tissue, Bone, and Eye Health. Great for Post-Workout!
buy now
science-backed ingredients
"Nitric oxide is needed throughout a woman's life, so it's important that every woman (and man) know about it." — Ultimate Beauty Health Founder Priscilla Alden B.
Learn More
"Nitric Oxide, more than any other single factor, may be the key to living a longer healthier life"
1998 Nobel Prize – Dr. Louis J. Ignarro, PhD
Get Fit Today w/ Nitric Oxide Supplements
NUTRITIONAL Support for: Skin Cell Renewal, Healthy Blood Flow, Nails, Hair, Immune System, and COLLAGEN naturally for Healthy Skin, Connective Tissue, Post Workout, Bone and Eye Health
Learn More
BEAUTY WITH PURPOSE: REJUVENATION & RECOVERY
Want to feel better, younger, or more vital? This formulation supports your body's ability to absorb essential nutrients each targeted for a specific purpose.

Looking for a natural solution to help boost healthy blood flow?
LEARN MORE
I tried these natural supplements for my health. I really like both products, because of the natural ingredients. I also noticed improvements with my hair, nails, skin, and energy levels.
Susan
This is an amazing supplement! As an athlete I've used other nitric oxide boosting supplements for strength training. The natural lasting energy from TruBeauty® is far above the results from any other product.
Sam
As a nail technician, I saw dramatic changes in the health of a client's skin and nails. She was taking the Rejuvenation supplement, so I decided to try it myself. I noticed a big difference in my workouts. Now I recommend TruBeauty® to all of my clients.
Emma
You have great products, that's why I take both Rejuvenation and Recovery. I also recommend to clients and my friends.
Dr. Joe K.
I love TruBeauty Nitric Oxide Recovery and take it as my multi-vitamin every day. I especially feel the difference during my workouts. I can also see the improvements in the health of my skin and hair.
Lucynda
Since starting to take TruBeauty Nitric Oxide Rejuvenation, I feel so much more energy! My nails are improving and getting stronger, and I'm just feeling better in general.
Jamie
My son and I have been using Rejuvenation for over a year now and notice a big difference in our energy levels. We are customers for the long term! We also believe in healthy nutritious supplementation. That's another reason why we like the product. It uses natural, gluten-free, non-GMO ingredients.
Jeff H.
I'm glad we met, and you have a great product! My husband and I [used our scanner to determine the right dose]. Sometimes our bodies only call for a single cap. I signed up for your email. Looking forward to finding out more. Have a great day!
Lucy
From the first day I began taking TruBeauty, I found that it gave me a new energy supply that seemed to last throughout the day—the boost was both physical and mental. I seem to have more stamina while exercising, and I no longer feel the typical mental fatigue that was common in me while working, especially during afternoons.
Celiac.com Review